Christmas is an amazing time of year when everyone wants to decorate and make their house feel magical and festive. It is however also a time of year when a lot of people are having to worry about being very frugal with their money. We believe that you should not need to have hundreds of pounds to spend to make your house feel like a magical Christmas wonderland.
This year especially, with the cost of living crisis in full swing, people will need to look for new and creative ideas that can help them to save money in one of the most commercialised and expensive times of the year. While Christmas decorations are hugely important to get you into the festive spirit, they do not always have to cost you an arm and a leg.
To be honest, you do not need to spend ungodly amounts of money to get some stunning Christmas decorations. There are a huge amount of DIY ideas that you can put together just by using different bits that you can find in your garden.
1 – Create your own garlands and wreaths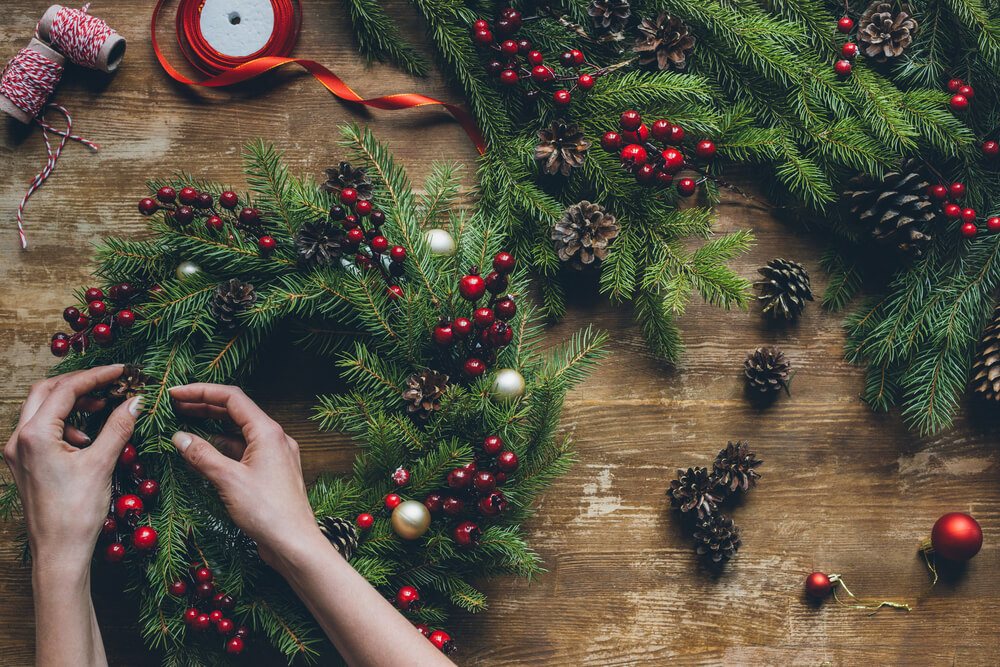 Let's face it, if you are buying a garland or a wreath from your local garden centre or homeware shop they can often be super expensive. We understand that they are traditionally an integral part of decorating any house over the festive period and you could therefore deem these a must-buy, even if they do cost a lot.
However, what you are missing here is that you have all of the key elements of a beautiful garland or wreath outside in your garden that could save you a fortune when decorating your home this Christmas. All you need is a handful of fir springs, holly springs, berries and pine cones which all can be found in your garden as well as florist wire and a wreath base so that you can attach the different elements.
If you are feeling super creative then you could even create your wreath base using some flexible sticks that you find throughout your garden. Not only is this an extremely cost-effective way of getting stunning decorations for your home but it is also an amazing Christmas activity to do with your family that can help you to get into the Christmas spirit.
2 – Using gyp to help decorate your Christmas tree
This is a phenomenally cost-effective way of adding a stunning charm to your Christmas tree that has been made extremely popular through the global social media site TikTok. Every year it feels like we see a new Christmas tree trend come about and this year is no different, this fantastic hack is not only extremely cost-effective, but it is also beautiful.
Gyp, also known as Gypsophila or Baby Breath, is a stunning group of flowers where each flower contains five petals which can come in glorious shades of white or pink. This elegant flower can be used as a more modern alternative to tinsel to give your Christmas tree that extra level of beauty.
White gyp used on a Christmas tree can also give it the same effect as a snow-dusted tree which helps to add another element of Christmas to your home. This DIY method is extremely cost-effective as it can be commonly found in your garden or failing that can be found in a garden centre or supermarket for just a few pounds.
3 – Dry out fruits from your garden for your festive potpourri bowl or tree ornaments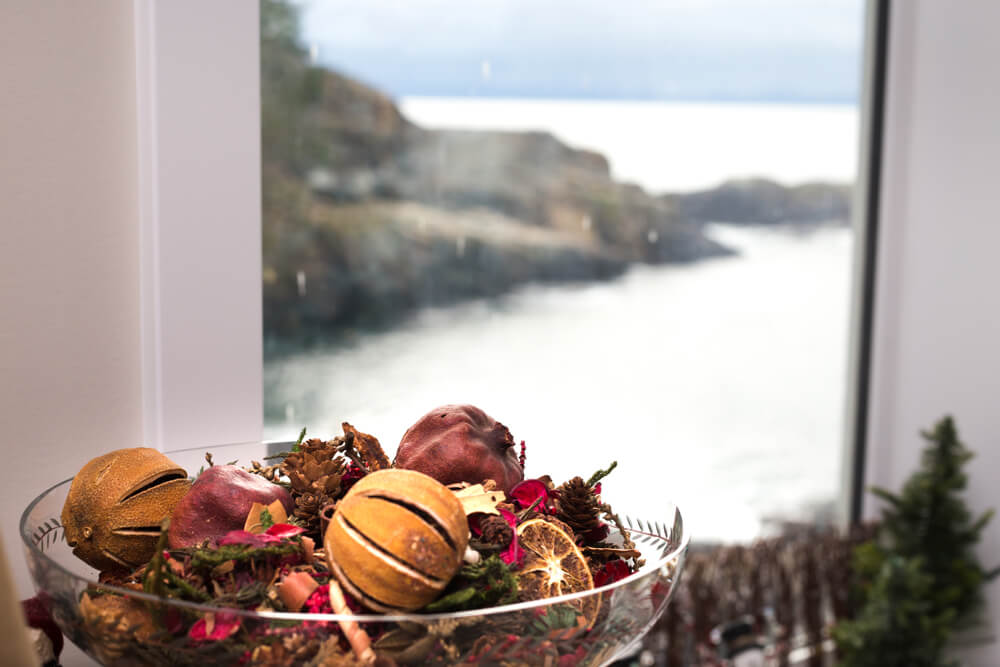 Potpourri is an extremely traditional decoration around the festive period. People use potpourri bowls and popery bags for their stunning, festive scents and colourful aesthetic. The Christmas scent that this potpourri helps to bring to your home has gorgeous spicy tones of cinnamon apple, hints of clove and star anise.
Potpourri from garden centres, department stores or supermarkets can be unnecessarily expensive, but making your own can cost you not a single penny and is super simple. Pick the fruit that you want to use from your garden, wash it and then slice it into equal parts. You should then place them onto a baking tray that is lined with parchment paper. Simply bake for 2-4 hours on low heat until the fruit is dried and crisp.
You can then add the dried fruit to a bowl and mix it with herbs, spices, cinnamon and other festive scents. Not only can you then add them to a beautiful display bowl for a traditional and classy look, but you can also use these dried pieces of fruit as cheap alternatives to baubles that both look and smell brilliant.
4 – Using holly and berries found in your garden for table decor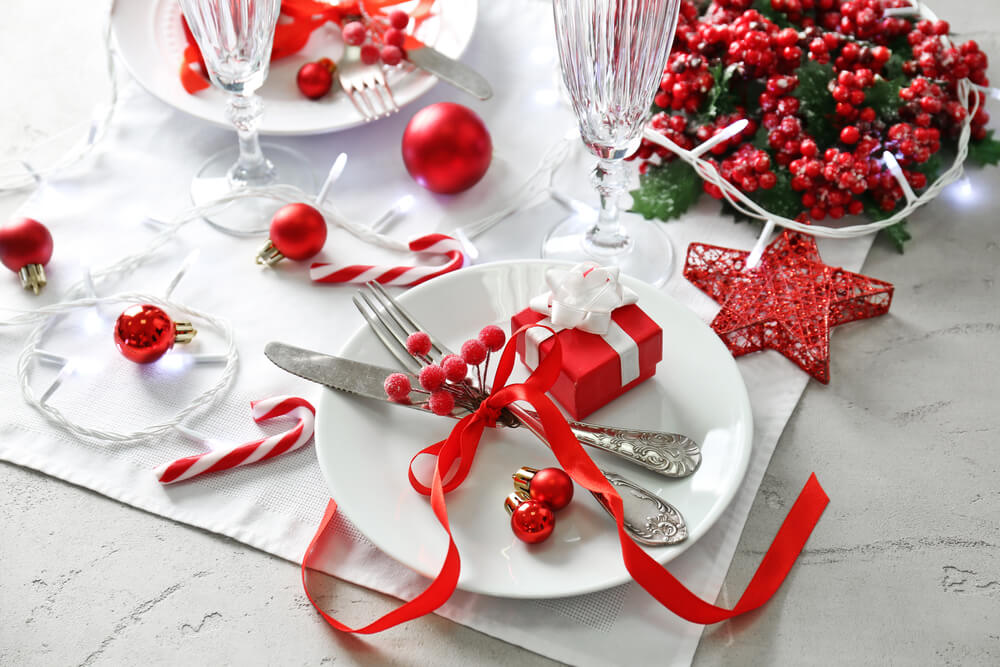 To many people, thrift table decor for Christmas dinner is among the most important decorations in the whole house. Again this can be very expensive to buy and in a time where we are all more worried about money than we have ever been could be seen to be an unnecessary cost. However, this cost of living crisis should not stop you from being able to have a beautifully decorated table come Christmas day.
The simple solution is that you need to become more creative with Christmas decorations this year to save yourself money. Your garden has a huge amount of resources that can be used to create beautiful table decorations such as place settings and table centrepieces. The amazing part about this is not just that it is super cheap, but it also allows you the complete creative freedom to create the perfect table decorations for your table.
At this time of year, you will often find holly, berries, pinecones and so much more that can be used to create stunning festive decorations that can give your Christmas dinner table a fantastically elegant and festive feel for you to enjoy your Turkey come Christmas day.
5 – Create stunning outdoor decorations with wood found in your garden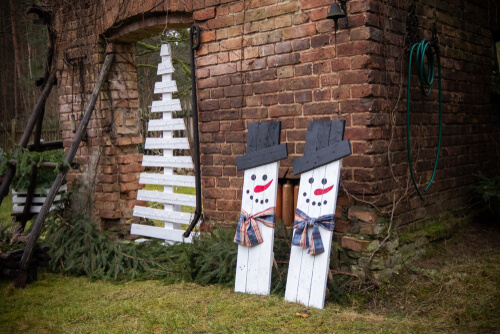 Outdoor decorations are arguably more important than the decorations that you have within your house. After all, you are the only people that can benefit from the decorations within your house. Whereas everyone down your street can benefit from the stunning festive destinations that decorate the outside of your homes. There are so many different ways that you can decorate the exterior of your home, whether it be lights, wreaths, trees, or festive figures.
More so than any other decorations, these can be extremely expensive and therefore coming up with other creative ideas to decorate your home's exterior could save you a true fortune. There are several amazing creative and cheap ideas that you can decorate outside of your home. These include: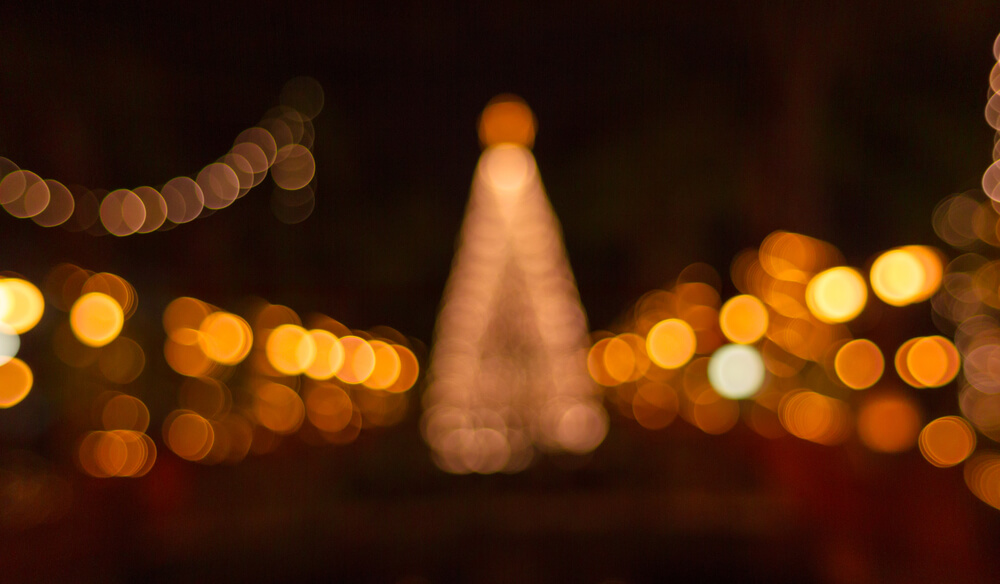 Lighting up your garden with stick trees – This is a super simple way of adding an element of festive light to your garden without spending a fortune. You simply get a big stick from your garden and then place it on the ground standing up straight. You can then wrap it in lights and pull the lights out from the top and then place them around the stick in the shape of a tree.
Create a Christmas pallet tree – This idea is slightly less accessible as it is most likely less common to have a spare wooden pallet laying around. However, if you do or can get hold of one super cheap then this could be perfect for adding some festive decorations to your home's exterior.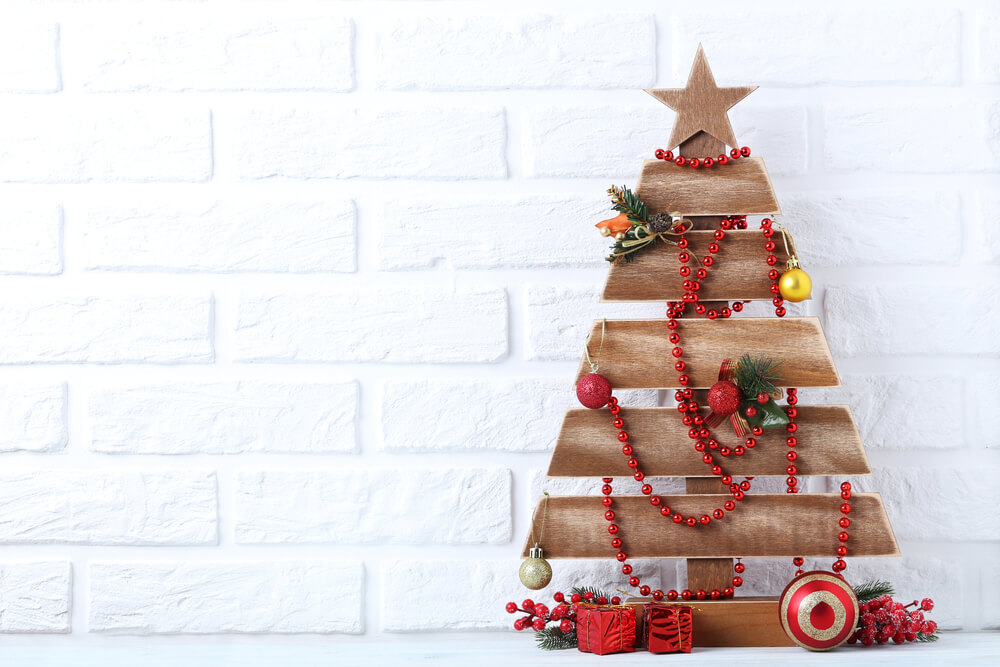 Simply draw the shape of a Christmas tree onto the wooden pallet, cut it out and then decorate it however you want with different colours, lights, patterns etc. This is just another way of creating the magical winter wonderland that you desire, but for a fraction of the price that it would cost to buy these decorations from retailers.
Create a wooden Santa log – This traditional Danish decoration is a cute way to add a slight bit of festive spirit to your outdoor area and it is so easy and simple to do. Simply find a skinnier log and cut through it at an angle. From there you can create your Santa design and add other elements such as ribbons, noses and beards to bring your Santa to life.
6 – Use pine cones to add some simple festivities to your home
The simplest decoration that can be found in your garden or any garden for that matter that can be used as a stunning decoration to bring the festive spirit to your home is a pine cone. Pine cones have been traditionally used throughout history as a stunning Christmas decoration. They can be used on trees, garlands, wreaths, table centrepieces and so much more. Their availability and little to no cost make them a must-have over the festive season.
You do not just have to settle with a simple pine cone however, you can decorate these pine cones however you want and give them their own life and character. You could even decorate and transform them to fit in perfectly with the theme that you are going for whether it is a bright and colourful Christmas tree or a more pure and elegant Christmas tree.