With spring just a matter of weeks away, you should now start thinking about the spring plants that you are wanting to add to your garden. While everyone has their own opinion on what the best garden plants are, there are many whose beauty you cannot deny and whose place in any garden should be guaranteed.
In this article, we will take a look at some of the most beautiful spring/summer flowering plants that should take a place in your garden this year.
1 – Tulips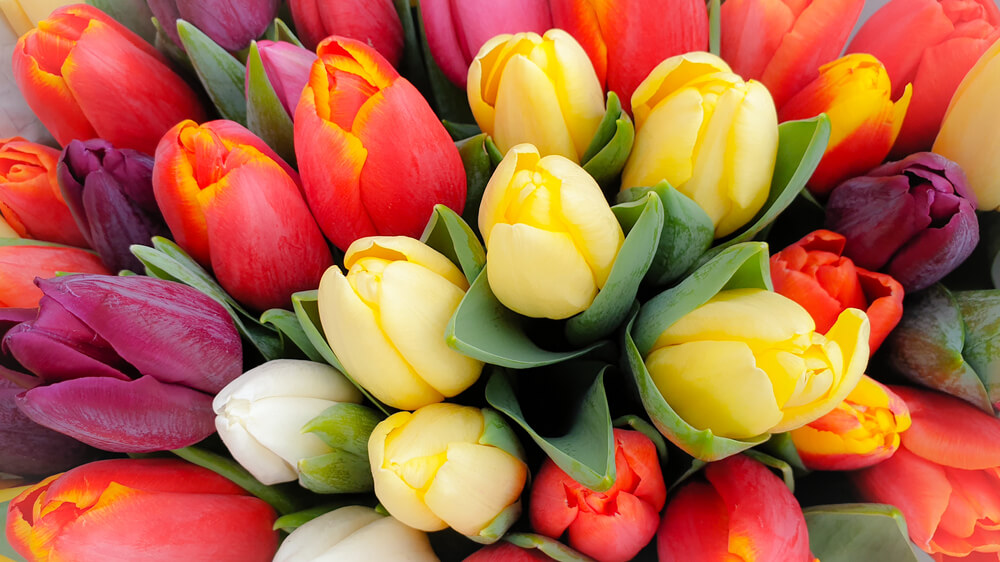 Tulips are undoubtedly one of the most popular flowers in the UK and in the world. That is for good reasons, the stunning flower is a favourite to many and can add a stunning element of colour to your garden. This is brilliant for the sunny summer months to brighten up your home's exterior and transform your garden.
Tulips are the perfect summery flower to fill your borders and gaps in flower borders. The stunningly vibrant and colourful tulips perfectly represent the spring/summer season and they are super easy to grow and maintain. Therefore in order to add these stunning flowers to your garden area you do not have to be a hugely experienced gardener, you simply need to have a garden.
Unfortunately, it is too late for you to plant your tulips from a bulb, as this should be done in late autumn for the perfect spring/summer bloom. However, you can plant potted tulip flowers in your garden. This is an incredibly simple job that involves digging a hole slightly bigger than the pot, removing the plant from the pot, loosening the edge of the root, placing it in the ground and then continuing to water the plant.
2 – Lavender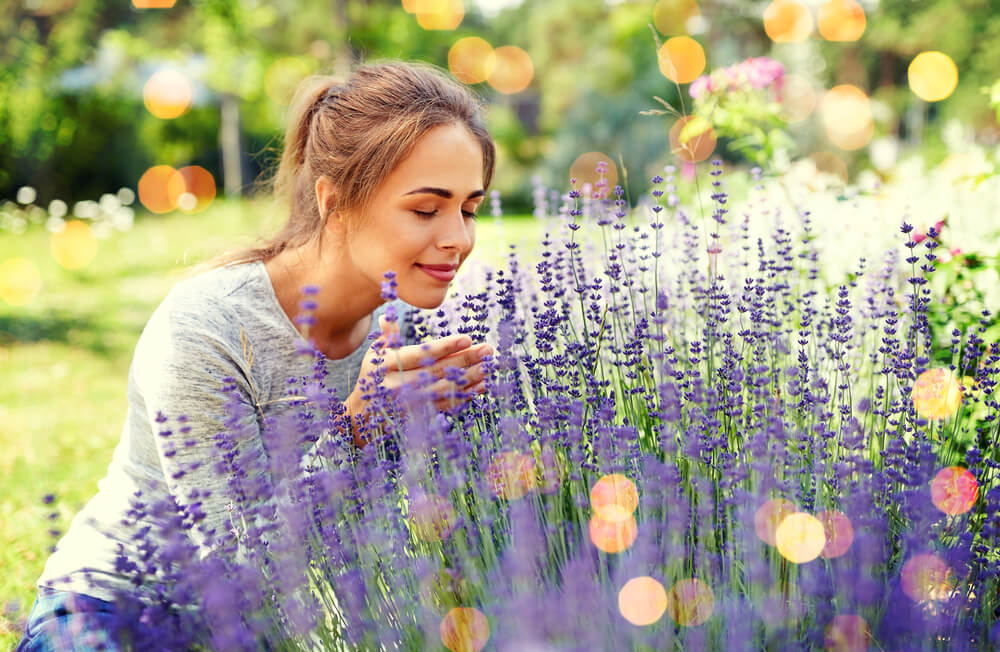 Lavender is a hugely popular flower all over the world, mainly due to its stunning fragrance. Not only does lavender give off a beautifully fragrant smell, but it also looks stunning in your garden. In the warmer months when you are spending more and more time in your garden, lavender and its breathtaking aroma and vibrant colours come into their own.
Lavender has many benefits in your garden, one of them being its ability to repel unwanted bugs such as flys, mosquitos, fleas and moths. It does this through the smells of the natural oils within the flower. In addition to this, adding lavender flowers will also attract beneficial insects such as bees and butterflies to your garden.
Lavender is best planted in early spring around April/May and in free-draining soil. It grows its best in borders, flower beds as well as herb gardens. It is important to plant lavender in an area where the roots will not sit in damp soil. It is also incredibly important that you plant the lavender as soon as possible after buying it for the best and healthiest growth.
3 – Pansies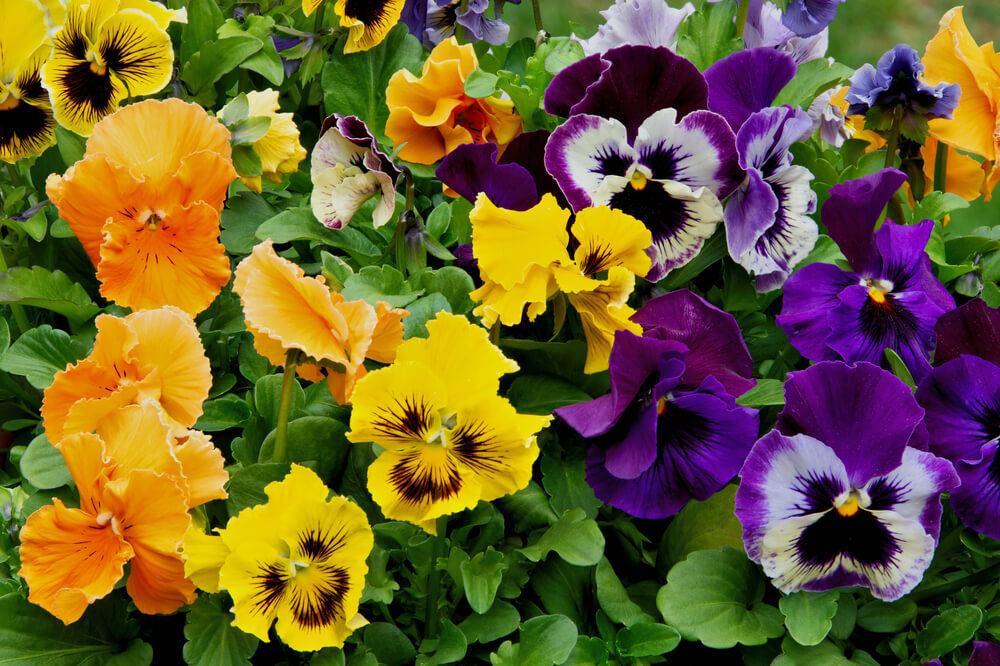 Pansies are a must-have in any garden. It can be difficult to make sure that your garden looks full and its best at all times. Pansies are the perfect flower to cover all empty soil space in your borders or flower beds. Their stunningly colourful and vibrant aesthetic can truly transform your garden and help it to feel far more full and therefore complete.
These stunning flowers have a huge amount of other amazing reasons why they are a phenomenal addition to your garden. Pansies are incredibly low maintenance, once they have been planted there is not a huge amount of maintenance that you need to complete. They are just a very simple and easy pop of colour to add to your garden area.
The process of planting pansies is super simple, simply lay an organic well-rotted matter, then plant these beautiful flowers. A slight bit of watering on a regular basis is more than enough upkeep for keeping these flowers looking beautiful and vibrant in your garden's borders and beds.
4 – Snowdrops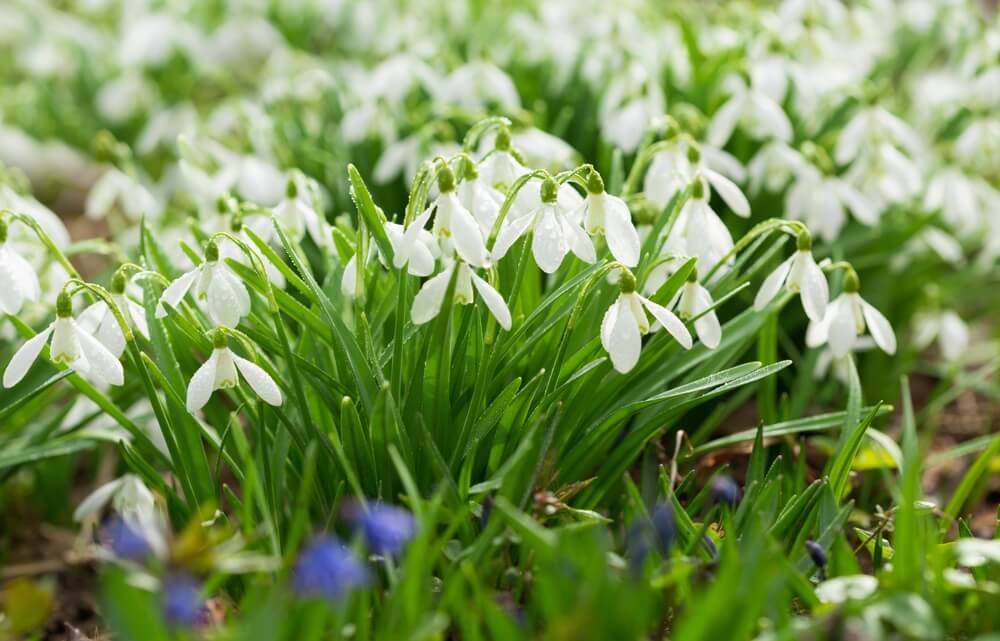 Snowdrops are without a doubt some of the most breathtaking and elegant flowers you can find. Their stunning pure white colour is the perfect addition to any spring/summer garden and can fully transform your borders and plant beds. The gorgeous flower perfectly symbolises purity and of course spring.
Snowdrops are without a doubt some of the best spring bulbs that you can plant. Despite their beauty, the plant is extremely robust and can withstand any last frosts that the unpredictable British weather can spring up. This durability is important as you plant your snowdrops in the green in early to late March when late frosts are still very common.
To fully optimise the aesthetic of your snowdrops you should plant them in larger groups of around 20 as this helps to give them a fuller look. It is important to grow snowdrops in moist soil that also receives a good amount of shade and is about 8 – 10 cm in depth. If you are planting snowdrops in the green then March is a perfect time.
5 – Lobelia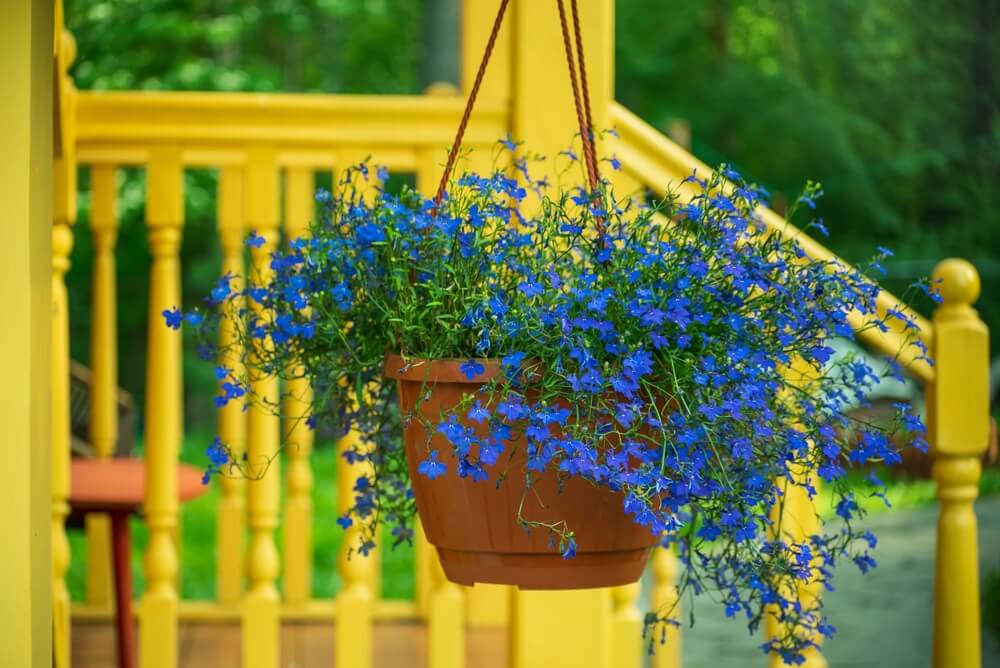 The last stunning spring/summer plant on this list is the lobelia, this stunning plant can add a plethora of beautiful colours to your garden's borders or even hanging baskets decorated around. Lobelia usually comes in bright shades of blue, purple and white and are therefore perfect at adhering to the traditional colour schemes of spring.
Lobelia is commonly known within the industry as the bright blue bedding plants that commonly spill over the edges of hanging baskets in the summer months. However, they can also look beautiful throughout your borders and flower beds.
The plant is also perfect for inexperienced gardeners due to the fact that it is extremely easy to grow. To grow lobelia you should first find a spot which is either full sun or predominantly sun with part shade. You should then dig a hole which is just as big as the root ball while also mixing in organic matter. Then Simply place the root ball into the hole, water it well and then use mulch on the area to lock in the moisture.