When we think of Palm trees, we usually associate them with tropical and subtropical climates such as the Caribbean or the Mediterranean. However, these beautiful plants are becoming increasingly popular in the UK, with Google Search data for the term 'palm trees for sale' at its highest ever point. 
The growing increase in palm trees could be due to a number of reasons, but with international travel off the cards for yet another year, it looks like people are deciding to create their own tropical paradise in their gardens.
William Mitchell, of Sutton Manor Nursery, says, "Palm trees are a beautiful way to brighten up and add a tropical feel to your garden. These architecturally beautiful plants have a striking shape and are surprisingly low maintenance."
If you like the idea of growing your own palm tree at home, then you've come to the perfect place. Have a read below for all the tips and tricks that you will need to successfully grow this breathtaking plant. 
Shop Now: Individual Palm Trees
What you need to know about palm trees
Contrary to popular belief, palm trees are suitable for the UK climate. In fact, many popular species of palm trees are hardy plants, meaning they can withstand temperatures right down to 12ºC in the case of Trachycarpus fortunei "Chusan Palm". Due to this, palm trees can survive British winters if they are taken care of correctly.
There are many different species of palm trees such as cordyline australis with large fan palms, trachycarpus fortunei (also known as the windmill palm) and chamaerops humilis to name a few. Depending on their species and size, palm trees can cost between £100 and £500.
William Mitchell adds, "Different species of palm trees will have their own distinctive characteristics with the most notable being their unique fronds. Because of this, different palm trees are ideal as indoor plants and others are perfect for outdoors."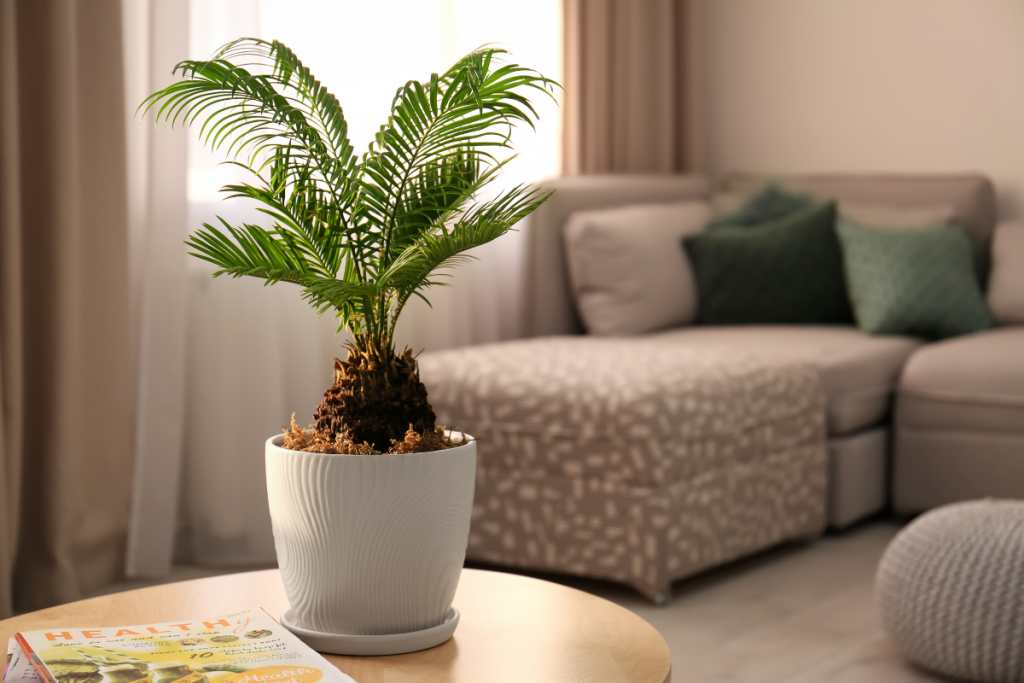 Planting your palm tree
Some palm trees may come already potted, but if this is not the case or you wish to plant it yourself, then there are a number of things you must do. Firstly, it's recommended that you plant your palm tree as soon as you receive it. However, this isn't always possible, so we suggest keeping it in a bright spot with indirect sunlight until such times when you can plant it. We also recommend keeping the plant's root system moist but not standing in water.
Although they can be transplanted any time of the year, the best time to plant palms is during spring or early summer, when the soil temperatures are on the increase. This way the palms get five to six months to grow strong before the first frost.
"When potting drilling a small hole (inspection hole) just above the base allowing you to feel the soil, if dry the plant will need watering, if moist the palm will not need watering. This can be very useful when monitoring your plant's health. When potting or planting your palm we suggest your palm tree we suggest using a mix of agricultural grit and John Innes no.3. Once this is done, be careful not to overwater your plant as palm trees like to be drainage free. We recommend watering only once or twice a week," says William.
Finally, if you are thinking about planting your palm tree in your garden, select a location that is sunny, yet sheltered, with well-drained soil. Dig a hole twice the size of the pot that your palm tree was purchased in and pop your plant right in.
Read More: How to Create Your Own Mediterranean Styled Garden at Home
Selecting a location for your palm tree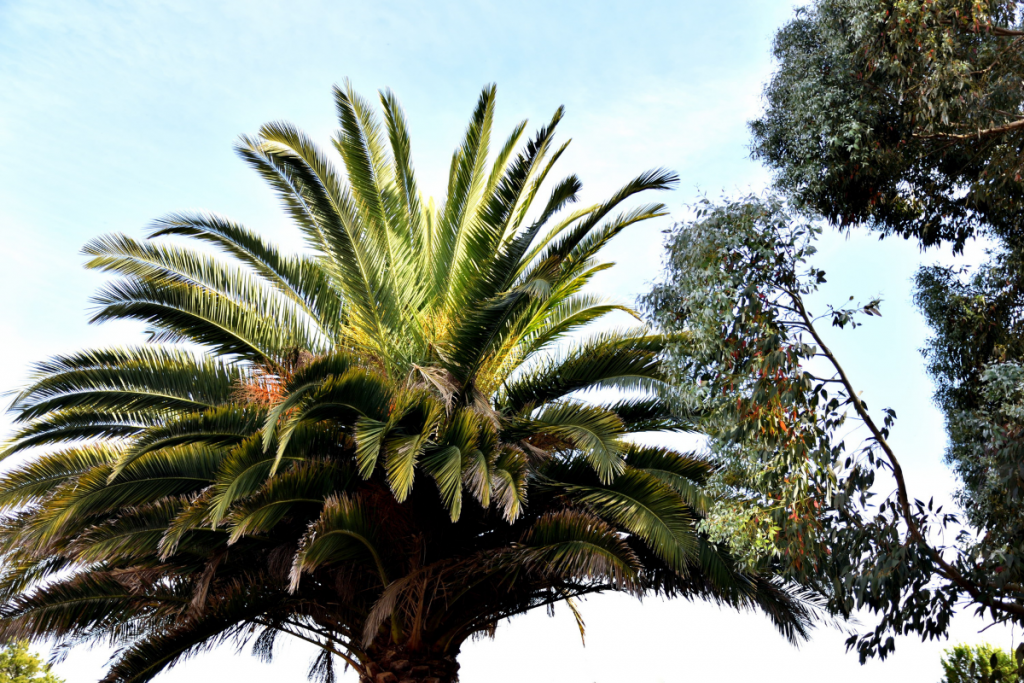 As mentioned above, palm trees should be planted in a sunny, yet sheltered area of your garden. However, there are also a few more variables you need to consider first. Due to the fact that palm trees are hardy, they are capable of withstanding strong winds typical of the UK climate. Despite this, it is still recommended that you plant your tree in a sheltered area to avoid any unnecessary strain.
William Mitchell adds, "A bright, sunny spot sheltered from strong winds is ideal, especially for species like Trachycarpus fortunei whose large fan-shaped leaves can be damaged in an exposed location. Some thrive in full, direct sun, but others need shady garden spots for beauty and health. Too much harsh sun leaves palm fronds sunburned, much like human skin, but fronds typically don't recover however you can cut the fronds to allow new growth. As a group, palms adapt well to a wide range of soils as long as the soil drains well."
Furthermore, when planting your palm tree, it's important to consider its proximity to your home or your neighbours. For palm trees to fully thrive the plant's canopy should be able to fully spread out and clear a roofline. Because of this, we recommend that you should never plant a palm tree, or any other tree for that matter, too close to your home.
Read More: Olive Tree Care: Everything You Need to Know
Caring for your palm tree
Caring for your palm tree is the most important part of owning a healthy plant. Although palm trees are relatively easy to look after, you still need to do some upkeeping tasks to keep your plant healthy.
Palm trees should be kept moist but not waterlogged for optimum health. We recommend watering your palm tree every day during the first week it is planted in your garden and then several times a week after that. Furthermore, you will also need to fertilise your palm tree. We suggest using Osmocote slow release as it contains NPK, magnesium and all the necessary trace elements to give your plant all the nutrients it will need.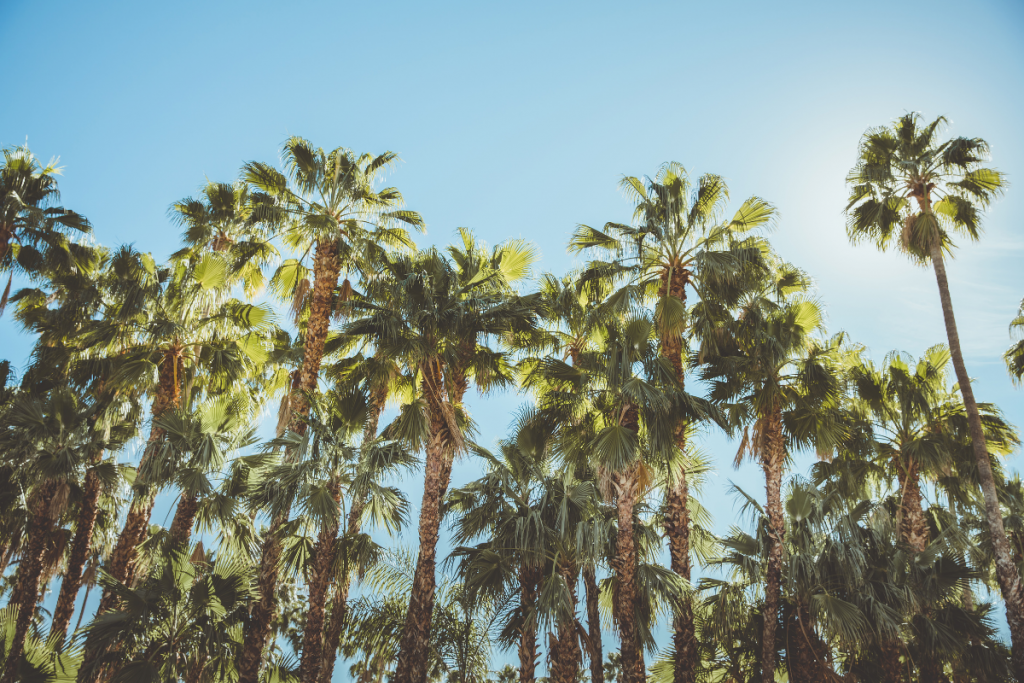 In the British climate, palm trees tend to grow quite slowly and because of this should only need to be trimmed once a year if required. Once planted in your garden, your palm might grow a foot in height and grow an average of two to seven fronds per year. As these palm stems thicken, the plants become more tolerant of lower temperatures.
Finally, the last thing to consider when taking care of your palm tree is its general upkeep. Unlike other trees, palms cannot be pruned. However, you can remove overgrown and unsightly leaves.
"When cutting the fronds, it is crucial to take care of the bark and avoid exposing the underlying layers. Apply fertilizer one week before removing yellowing leaves and use appropriate tools to prevent accidents or damage the bark. Cleanly cut off yellow or brown fronds at the base of the stem," suggests William.
Palm trees are low maintenance and can be grown easily in the UK. Many of our palm trees are very easy to care for with minimum knowledge of plant care. Palm trees are very popular because they are both hardy and versatile."
"They also look lovely in all types of garden and as well as being planted in the ground, they can be grown easily in pots too because of their slow growth and compact size. Individual care instructions for each species of the palm tree can be found on our website and we are always happy to provide more information and advice over the phone, email or in person at our Nursery."
Winter Care for Palms
Keep your palms sheltered from harsh winds as much as possible. Potted palms may need the top of the pot covering to prevent waterlogging, this can be judged using the inspection hole mentioned earlier. Winter palm fronds will often turn yellow, however, they will flourish returning to their natural green colour in spring/summer. Any winter wind damaged fronds can be cut back later in spring to allow for new seasonal growth.
Love the idea of having your own palm tree? Shop our full range today!